premier web booking and premier mobile
premier software now offers a fantastic online web booking facility that can be incorporated into your website and seamlessly integrates with your spa or salon management software. Web booking allows clients to book themselves in over the web, freeing up staff to concentrate on treatments.
premier mobile has now also been introduced to allow you to view the diary and put through bookings via your smart phone or tablet device.
Both of these fantastic products are absolutely free to those with a premier support contract.
---
Demos
Web Booking
Click Here to try our online booking system for yourself. You can either register yourself to see what the process will be like for your clients, or simply book an appointment using our demo account which has already been set up.
iPad/Tablet/Browser - Diary View
Click Here to try premier mobile in your web browser. To login, leave the username blank, and use the password demo.
Smart Phone - Diary View
Click Here for our mini version of premier mobile, specifically designed with todays hand held devices in mind. View you diary on your iPhone, Samsung, HTC and many more. To login, leave the username blank, and use the password demo.
---
Call us on 01543 438 291 to arrange your
installation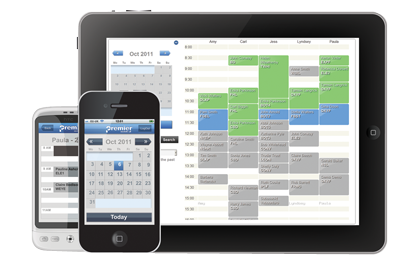 Web Booking
Web booking is run on our server but can be customised via on online portal on our web site by you the client, so you can change your logo, cancelation policy, confirmation emails, opening times etc,. We will install the software on your computer remotely and all you have to do to add this function to your website is put a link on your web site.
Premier Mobile
Check your diary, create appointments and client cards and view details from your internet enabled smart phone, tablet, or web browser. Whether you using it in your treatment rooms as an easy alternative to your reception computer or you want to check on business from the beach on holiday.
Specification
In order to install and run the web booking service on your PC it will need to meet the following criteria :-
Windows XP Professional, Window Vista Home Premium, Windows Vista Business, Windows Vista Ultimate, Windows 7, Windows Server
a minimum of 2GB of RAM
the computer needs to be a desktop or server, not a laptop
You will also need to organise a static IP with your Internet Service Provider or whoever handles your broadband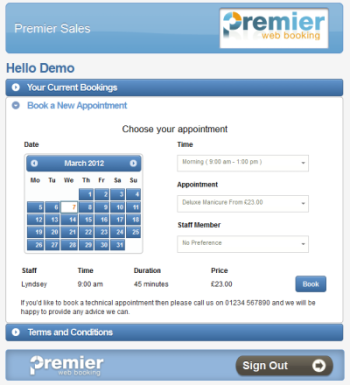 ---
Please note if your computer has Windows XP Home or Windows Vista Home Basic then we cannot install the premier web service

Also, as the computer needs to be left active at all times, we do not recommend installing web services on a laptop

Installation of the necessary software takes 1-2 hours depending on your operating system. This includes installing the Microsoft Internet Information Service module, installing the web boking interface and configuring your router or firewall to allow communication between the premier mobile/web booking service and your computer

Due to limitations with Blackberry, unfortunately we don't support the Blackberry phone platform